By Cleaver-Brooks
The attached case study examines the result of the Mount Royal University's boiler room upgrades. This was carried out to reduce their carbon footprint and bring existing boilers in compliance with local gas codes (CSA B149.3 Compliance for Fired-Appliances).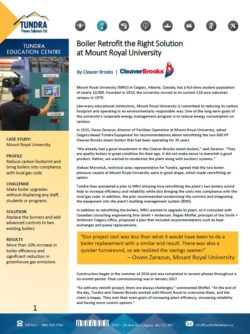 Tundra replaced the burners and added advanced controls to two existing boilers with parts from Cleaver-Brooks. This has resulted in a more than 10% increase in boiler efficiency; and significant reduction in greenhouse gas emissions. MRU's operating costs have since decreased by $385,885 the first year of operation.
Get Email Updates
Stay connected and sign up to our email list to be the first to hear about the latest news, events, training, and special offers.